Brainpin
So there I was, sitting around the T.V. thinking about all the stories I've been writing, all the potions I've been mixing, and I thought to myself: what is reality? Is it what I see around me? Or is it something that can be changed? Ever the philanderer, I decided to get digging.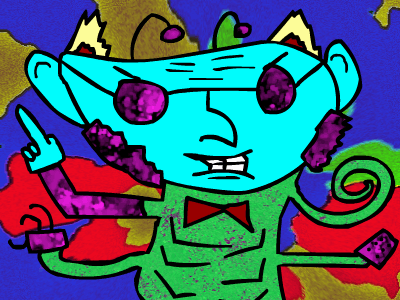 "You can take my money, my friends, and my soul, but not the air in my hand!"
It turns out, I was right the first time. Reality can't be changed, so just forget about trying to "save the world" with your recycling, skippy. And if reality can't change, then I can't just go around being other people. That would be cool, too. Imagine if you could just leave your existence behind and
be
someone else for just a little while, see how they live and such. I've done that before, being a robot and all, but never for profit. Long live the Empire.