Evil Bob Dole Found in Spider Hole
The so-called "Butcher of the Blogosphere" is finally in custody today after being pulled out of a six foot deep camouflaged hole in the ground outside of Dolengrad. He will eventually stand trial for his crimes against the people of the Frozen Lower Blogosphere, including his alleged comments that puppies are "uncute". Newly reinstated Lord High Executioner Gyrobo issued the following statement:
"Friends! Countrymen! Dregs of the Blogosphere! Today marks a great new beginning for all of us. The oppressive rule of Evil Bob Dole is over! Now begins the oppressive rule of Gyrobo! All shall fall before me! Bwa ha ha!"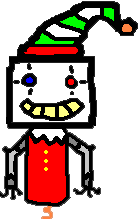 Long may he rein!