You Better Run, Robo.
When in the Course of robotic events it becomes necessary for one awesome robot King to dissolve the—
Forget it. Just know this: Evil Bob Dole is totally in control of the situation. You thought you'd rid yourselves of me when the Burning Sub-Blogosphere imploded, did you? Well, Evil Bob Dole is
back
. And this time, I'm
stronger
. I'm faster, more active, and have now merged completely with the Lower Blogosphere's mainframe computer to become...
robotic.
As the new robot in town, I hereby assume the throne of Supreme Master of the Frozen Lower Blogosphere. Gyrobo,
I said good day.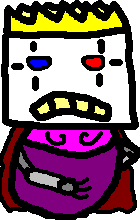 "Ever dance with the devil in the pale moonlight?"